A bold new attitude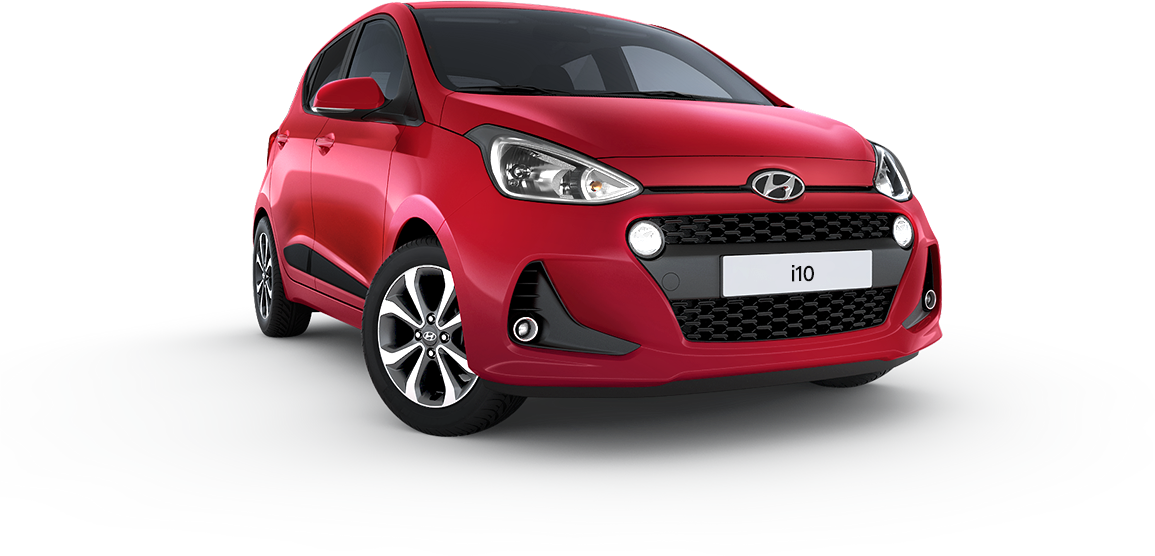 DYNAMIC, MODERN DESIGN
The sleekly styled headlights add to the overall dynamic looks of the New i10.

The newly designed grille adopts the cascading profile that reflects the latest Hyundai design direction.

Round daytime running lights add a touch of sportiness to the front of the New i10, with powerful and efficient LED versions available on Premium and Premium SE models.
Your truly connected car.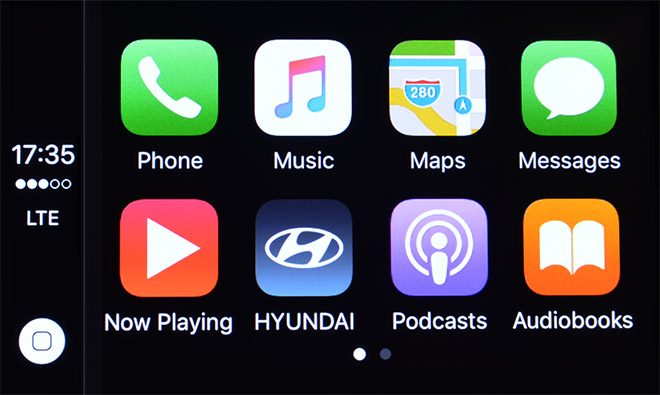 Apple CarPlay
Navigation
Android Auto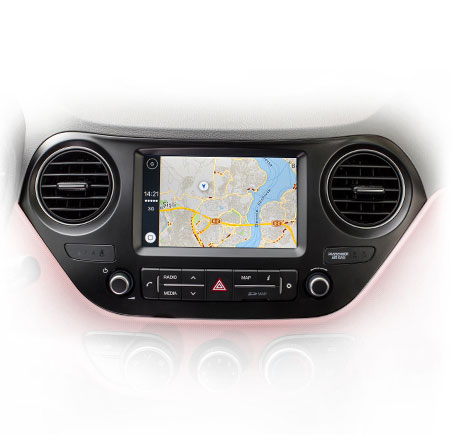 Navigation
The 7" LCD touch-screen* shows more than just route guidance. The navigation system's LIVE Services also provide up-to-date traffic information, speed camera alerts, weather and points of interest. Thanks to Apple CarPlay** and Android Auto**, your compatible smartphone can also be perfectly integrated.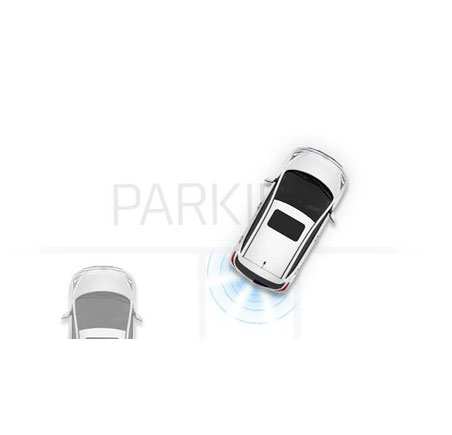 Rear Parking Sensors
Reversing into confined spaces can be a problem, especially in low visibility conditions. The New i10 Premium SE has four sensors in the rear bumper that can detect obstacles you can't see, and tells you when to stop reversing.
IT'S GOT THE LOOK
Everything about the i10 makes a clear, confident impression.
Cascading grille The newly designed grille adopts the cascading profile that reflects the latest Hyundai design direction.

Door mirror LED indicators Available on Premium and Premium SE models, LED indicators are cleverly integrated into the door mirrors, making it easy for other road users to see when you're making a turn.

Sunroof The sunroof allows for more fresh air and sunshine.

New wheels Wide wheel size options up to 15 ". Newly designed 14 "sporty looking
alloy wheels and 14" steel rims are among these options.

New rear bumper with contrasting insert Setting the New i10 apart from the crowd is the sculpted rear bumper incorporating a black panel and new round rear fog lights.

Privacy glass Darkened glass in the rear side doors and rear window of Premium and Premium SE models offer a touch of sophistication, as well as privacy for rear occupants and relief from strong sunlight.

Rear combination lights Make a strong impression with rear combination lights that express both stance and style.
Spectacularly spacious
Class-leading internal dimensions combined with a choice of colour packages* make the New i10 an impressive all round advantage.
Big technology in a compact package
Whatever the length of your journey, you'll appreciate the attention to detail that's inside the i10.
Navigation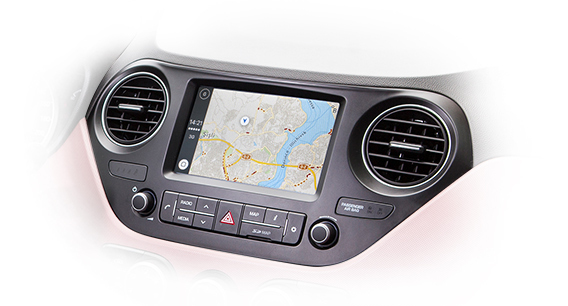 Sunroof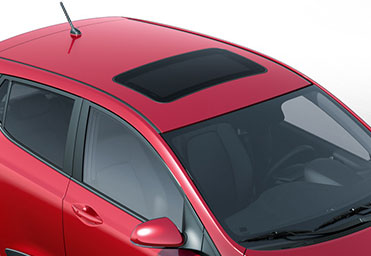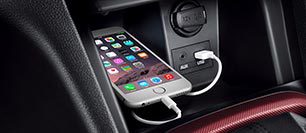 Connectivity USB & AUX
Easy connectivity for your iPhone, iPod or other device, just plug-in and play. iPhone and iPod are trademarks of Apple Inc.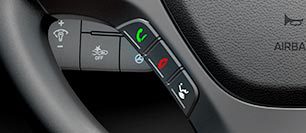 Bluetooth connectivity
SE models and above offer Bluetooth® connectivity. Controlled from the steering wheel, you can access your favourite music via audio streaming and make calls, all without lifting a finger.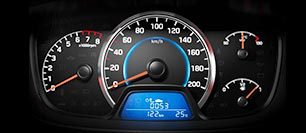 Smartphone Docking Station
Premium models can safely hold your compatible smartphone in the perfect location for navigating or playing your favourite music while also charging the battery, all cable free.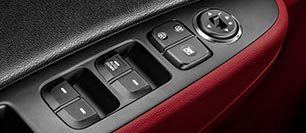 Electric rear windows
Another unusual feature is that the rear windows can be lowered and removed with just one push of a button.
Fun to drive
Optimised chassis settings provide enhanced ride, handling and steering feedback. And the New i10 powertrains let you make the most of every drive, whether winding through country lanes or cruising on the motorway.
1.0 Litre
Petrol engine
The 1.0 petrol engine delivers maximum power of 66PS at 5,500 rpm and maximum torque of 95 Nm at 3,500 rpm.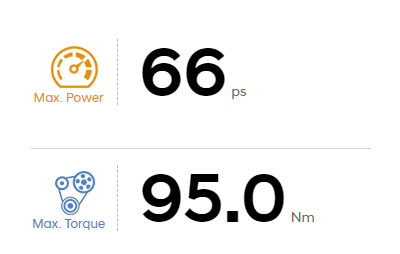 1.2 Litre
Petrol engine
The 1.2 petrol engine delivers maximum power of 87PS at 6,000 rpm and maximum torque of 120 Nm at 4,000 rpm.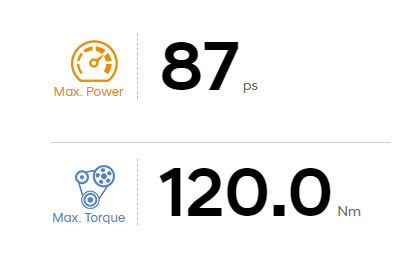 Safety all round
The i10 is fitted with a wealth of features to keep you and your passengers protected.
Lane departure warning system (LDWS)

A camera mounted at the top of the windshield on SE models and above monitors

lane markings and alerts the driver if the vehicle departs from the lane without signaling.

Front Collision Warning System (FCWS)

The multi-function camera monitors the distance between your car and the vehicle in
front. It provides visual and audible alerts if the risk of collision is detected.*

Tyre pressure monitoring system (TPMS)

TPMS monitors the pressure in all four tyres and alerts you
when pressure too low is detected.

Hill-start assist control (HAC)

This system detects steep slopes and initiates the brake automatically to prevent hazardous
rolling backward, especially when restarting the car after a stop in the middle of a slope.

Static cornering lights

Static cornering lights on Premium Nav and Premium SE Nav models enhance visibilitywhen cornering.
By projecting more light on the road ahead, this enables thedriver to spot obstacles and pedestrians more easily.
LDWS
FCWS
TPMS
HAC
SBL
SON
Electronic stability control (ESC) and Vehicle stability management (VSM) To ensure optimal braking performance, ESC automatically distributes optimum brake force to each wheel based on engine torque and driving circumstances. VSM enables the vehicle to maintain maximized stability and safety when driving in potential skidding situations.
Anti-lock brake system (ABS) ABS prevents skidding and wheel lock-up on slippery surfaces or during
sudden braking situations all the while allowing you to retain steering control.
6-airbag system Every New i10 offers peace of mind with six airbags that are deployed on impact to protect all occupants.
Price / Specifications
1.2 MPI 16V 5 2WD MANUEL
ENGINE
1248 cc

Cylinders: 4

Valves: 16

Max Power kw(bg/DIN): 87PS (64Kw)Ö

Fuel Type: Petrol

CONSUMPTION
In-city: 6,0 LT/100km

Out-of-city: 4,0 LT/100km

Mixed: 4,7 LT/100km
SPECIFICATIONS
ABS+EBD+ ACİL FREN DESTEK SİSTEMİ

SÜRÜCÜ VE YOLCU HAVA YASTIKLARI

AKTİF ÖN KOLTUK BAŞLIKLARI

MANUEL KLİMA

YÜKSEKLİK VE DERİNLİK AYARLI DİREKSİYON

USB İPOD UYUMLU AUDİO BAĞLANTI GİRİŞİ

ELEKTRİK KUMANDALI VE ISITMALI DIŞ DİKİZ AYNALARI