Led Integrated Projection Type Headlights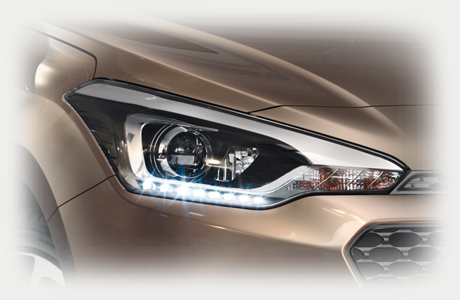 The i20 impresses with its looks. With its impressive LED Integrated Projection Type Headlights, it will reflect your inner glow both day and night. The streets will be illuminated with the i20...
Hexagonal Radiator Grille and Front Fog Lights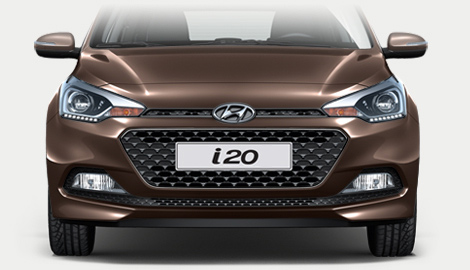 While displaying the characteristics of Hyundai DNA with its wide front grille and front fog lights, it moves towards big goals with you.
16" Alloy Wheels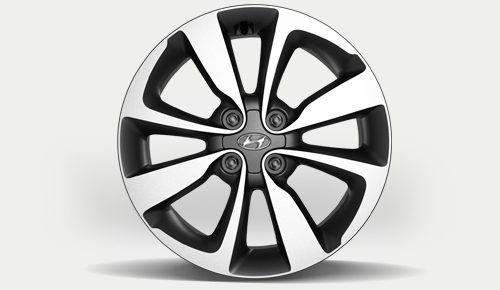 With its remarkable design, 16" alloy wheels appeal to both the eye and the heart.
Led Signal Rear View Mirrors

LED signals on body-coloured mirrors add to the i20's captivating design.

Sophistication and refinement
The i20's classic profile is a study in elegant simplicity. Every feature line is confident, every curve is subtly seductive.
Radiator grilleThe centre piece of the i20 is the signature hexagonal grille. Featuring two distinct designs dependant on engine selection, Premium SE Nav models also benefit from a chrome effect surround.

Front fog lampsAdditional front lighting helps illuminate the way through fog and heavy rain.

Door mirrors Electrically heated and adjustable, the door mirrors also house indicators offering extra visibility to other road users when turning. Premium Nav and Premium SE Nav models also feature a power folding function.

Panorama sunroof Whether you're looking from the inside or admiring from the outside, the Hyundai i20 Premium SE Nav offers stunning views. The sliding and tilting panoramic sunroof bathes the interior with natural light giving the cabin an airy and spacious feel.

High-mounted brake light A high-mounted brake light, just at the eye level of drivers behind you, makes sure they know you are braking.

Rear reflectorsSporty and dynamic dual tone rear reflectors and auxiliary brake lights offer even more visibility to following drivers.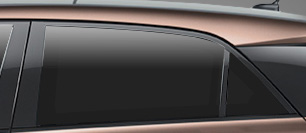 Privacy glass
For passengers' privacy and convenience, the rearside and tailgate windows on Premium Nav and Premium SE Nav models are darkly tinted.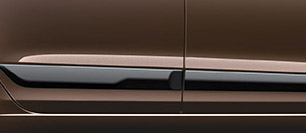 Waistline molding
The sporty side body moulding integrates seamlessly into the front and rear doors, giving an agile and aerodynamic look to Premium Nav and Premium SE Navmodels.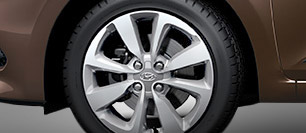 Wheels
The i20 is available with 3 wheel designs. S models feature 15" steel wheels, SE models 15" alloy, while Premium Nav and Premium SE Nav models go big with 16" alloy wheels.
Spacious, comfortable, tranquil
Simple in its layout with everything you need in easy reach, the clean and modern interior design offers sensory well-being.
Interior design
Inside the i20 each surface has been crafted to look and feel exceptional. Materials have been carefully selected with special attention given to their quality and durability.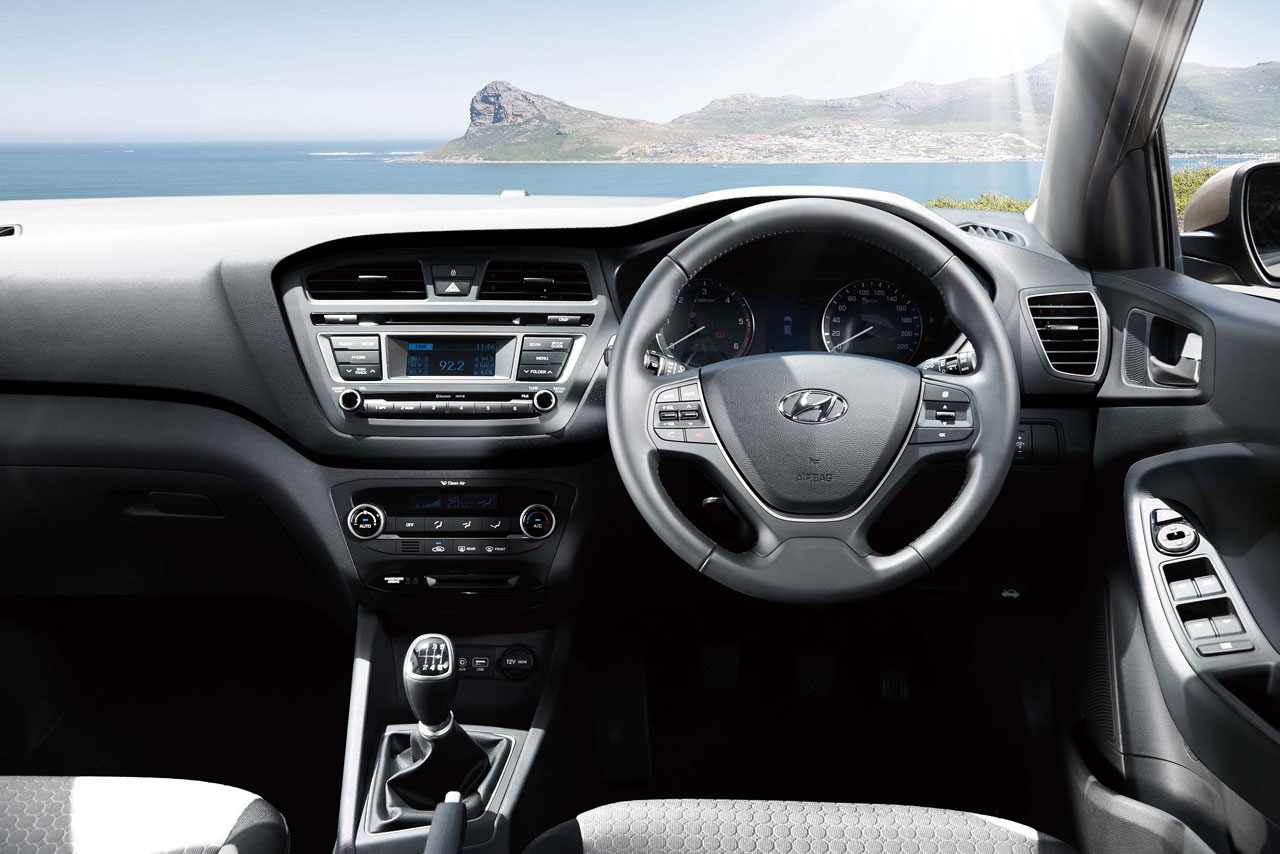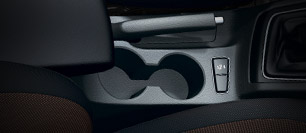 Cup-holders
Conveniently positioned between the front seats.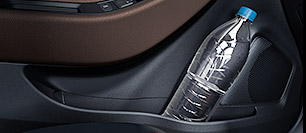 Bottle stowage in doors
1.5 liter bottles can be securely stowed in the front door pockets, while the rear doors can accommodate 1 liter bottles.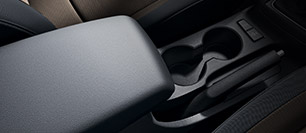 Centre console and armrest
Extra stowage in the center console with a lid that forms a comfortable padded armrest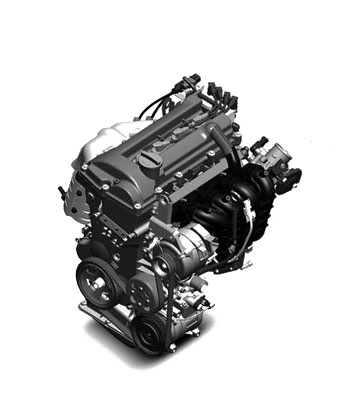 1.4 MPI 16V 4 SPEED AUTOMATIC GEAR GL
Compact in size, big on performance
The i20 hatchback offers a remarkably calm and refined driving experience. It's also playful when you want it to be.
1396 cc

Cylinder: 4

Vavles: 16

Max Power: kw(bg/DIN) 100PS (73,6Kw)

Fuel Type: Gasoline
Safety all round
The i20 is fitted with a wealth of features to keep you and your passengers protected.
Lane departure warning system (LDWS)

A camera mounted at the top of the windshield on SE models and above monitors

lane markings and alerts the driver if the vehicle departs from the lane without signaling.

Front Collision Warning System (FCWS)

The multi-function camera monitors the distance between your car and the vehicle in
front. It provides visual and audible alerts if the risk of collision is detected.*

Tyre pressure monitoring system (TPMS)

TPMS monitors the pressure in all four tyres and alerts you
when pressure too low is detected.

Hill-start assist control (HAC)

This system detects steep slopes and initiates the brake automatically to prevent hazardous
rolling backward, especially when restarting the car after a stop in the middle of a slope.

Static cornering lights

Static cornering lights on Premium Nav and Premium SE Nav models enhance visibilitywhen cornering.
By projecting more light on the road ahead, this enables thedriver to spot obstacles and pedestrians more easily.
LDWS
FCWS
TPMS
HAC
SBL
SON
Electronic stability control (ESC) and Vehicle stability management (VSM) To ensure optimal braking performance, ESC automatically distributes optimum brake force to each wheel based on engine torque and driving circumstances. VSM enables the vehicle to maintain maximized stability and safety when driving in potential skidding situations.
Anti-lock brake system (ABS) ABS prevents skidding and wheel lock-up on slippery surfaces or during
sudden braking situations all the while allowing you to retain steering control.
6-airbag system Every New i20 offers peace of mind with six airbags that are deployed on impact to protect all occupants.
Price / Specifications
1.4 MPI 16V 4 2WD AUTOMATIC GL
ENGINE
1396 cc

Cylinders: 4

Valves: 16

Max Power: kw(bg/DIN) 100PS (73,6Kw)

Fuel Type: Petrol

CONSUMPTION
In-city: 8,5 LT/100km

Out-of-city: 5,1 LT/100km

Mixed: 6,4 LT/100km
SPECIFICATIONS
ABS+EBD+ EMERGENCY BRAKE SUPPORT SYSTEM

DRIVER AND PASSENGER AIRBAGS

HEIGHT AND DEPTH ADJUSTABLE STEERING WHEEL

ALUMINUM ALLOY WHEELS

BLUETOOTH MUSIC AND PHONE CONNECTION

ORIGINAL BLACKED REAR WINDOWS

AUTOMATIC CLOSING SIDE REAR MIRRORS

ILLUMINATED AND COOLED Glove Box