RENEWED DYNAMIC DESIGN
Developed with Hyundai's fluid design philosophy, Elantra's sporty and future-oriented design complements the modern identity.
Irresistible Trust
Elantra gives confidence with its striking design, stance dominating the road and sophisticated profile.

Its stylish headlights, combined with the striking hexagonal grille, give the feeling of a high-class car ready to leap forward.

Unique and Durable
Elantra highlights the new dynamic fender design and renewed dimensions to spark your passion for driving.
Improved chassis rigidity and durability
Improved chassis rigidity with 53% more ultra-high-strength steel provides better handling, durability and performance.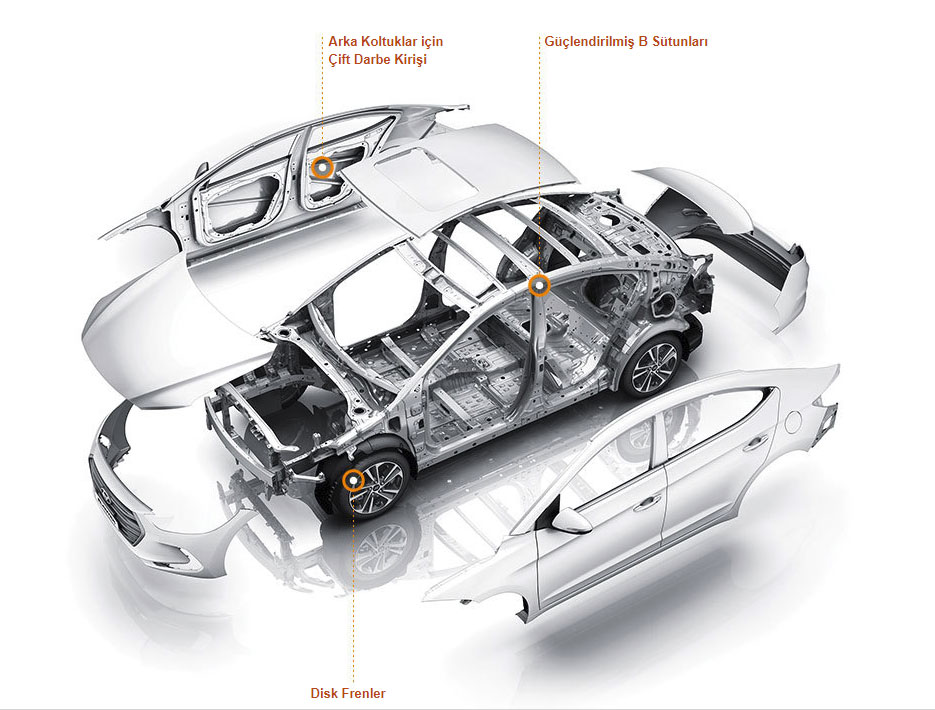 Aerodynamic Design
With its completely renewed and high-tech body design, Elantra has been designed to maximize stability and fuel efficiency with its sporty structure and optimized technologies.

ELEGANT AND MODERN
A compact vehicle like no other. Its modern and elegant appearance has been designed to match its outstanding performance.
Sis farları Optimal seviyede görüş imkanı sunan, özenle monte edilmiş sis lambaları sayesinde hava koşulları ne olursa olsun aracınızı güvenle sürün.

Radyatör ızgarası Hyundai'ın imzası olan altıgen ızgara, yoğun bir enerji hissi veren dinamik ve canlı bir tasarım ile yenilendi..

LED entegre yan aynalar Aerodinamik dış dikiz aynalarına entegre LED dikiz aynası sinyalleri, araca yenilenmiş bir dokunuş katıyor.

Krom cam çıtaları Aracın seçkin görünümünü kapı çizgisi boyunca uzanan opsiyonel krom çıtalar ile artırın.

Alaşım jantlar 15" çelik ve 17" alaşım jantlar arasında değişiklik gösteren yeni tasarımlı alaşım jantlar ile nasıl ilerleyeceğinize siz karar verin.

Üçüncü stop lambası (HMSL Göz alıcı üçüncü stop lambası (HMSL), arkadaki araç ile güvenli bir sürüş mesafesi sağlar.

Arka reflektörler Anında fark edilmenizi sağlayan yüksek görünürlüklü arka reflektörler ile yolu aydınlatın ve güvende kalın.
Yeni, karşıtlık katan kesimli arka tampon i10'u farklı kılan başka bir özelliği ise, siyah bir panel ile yeni yuvarlak sis lambalarını birleştirerek zarif bir görünüm elde eden arka tamponudur.

Renkli cam i10'da bulunan renkli camlar araca hem zariflik hem de fonksiyonellik katıyor.

Arka stop-sinyal lambaları Duruş ve incelik belirten arka stop-sinyal lambaları ile güçlü bir izlenim bırakın.
PERSONAL COMFORT
The flawless superiority in materials and design exudes an air of inviting comfort and luxury above its class.
1.6 D-CVVT 6 F AUTOMATIC GL
ENGINE

Cylinder Displacement (cm3) 1591

Number of Cylinders 4

Number of Valves 16 MPI

Maximum Power kW(hp/DIN) 127/6300PS (73.6Kw)

Fuel Type Gasoline
FOR SAFE ROADS
Advanced driver assistance technologies help keep Elentra on the right track and out of trouble.
Lane Departure Warning System

(LDWS)

Lane departure warning system in case of an unintentional departure from the selected traffic lane; multi-functional When detected by the camera, it warns the driver visually and audibly.

Only available with ELITE Navi Drive Pack version.

Ön Çarpışma Uyarı Sistemi

Çok-fonksiyonlu kamera, aracınız ile önünüzdeki araç arasındaki uzaklığı takip eder.
Çarpışma riski algılandığında görsel ve işitsel uyarılar sağlar.

Sadece ELITE Navi Drive Pack versiyonu ile mevcuttur.

Lastik Basınç Uyarı Sistemi (TPMS)

Bu standart özellik lastik basıncını denetler ve
düşük hava basıncı tespit edilirse uyarı sağlar.

Yokuş Kalkış Destek Sistemi (HAC)

Yokuş Kalkış Destek Sistemi, zorlayıcı yokuşlarda kalkış yaparken kısa bir süreliğine
frenleri devreye sokarak Elantra'nın geri kaymasını engeller.

Statik Dönüş Farları (SBL)

Sağa ya da sola dönüş yaparken dönülen yol,
ekstra bir alt ışık tarafından aydınlatılır.

Sadece ELITE versiyonu ile mevcuttur.
Electronic Stability Control (ESC) and Vehicle Stability Management Program

(VSM)

Things are fine thanks to the Vehicle Stability Management Program (VSM), which takes into account everything from the traction value of each wheel to how the Elantra's body moves, while everything else is safe with standard Electronic Stability Control (ESC).

Thanks to these features, your Elantra will now detect when braking is required, even during sudden movements or sharp turns, and will always keep you on the road safely.




Anti-Lock System (ABS) and Brake Assistant

(BAS)

ABS helps maintain steering control in emergency braking situations.

BAS is used to optimize braking performance.

Provides extra braking power.



6 air bed system

Each Elantra provides peace of mind with six airbags to protect all occupants in the event of a collision.
Price / Specifications
Safety all round
The Elentra is fitted with a wealth of features to keep you and your passengers protected.
Lane departure warning system (LDWS)

A camera mounted at the top of the windshield on SE models and above monitors

lane markings and alerts the driver if the vehicle departs from the lane without signaling.

Front Collision Warning System (FCWS)

The multi-function camera monitors the distance between your car and the vehicle in
front. It provides visual and audible alerts if the risk of collision is detected.*

Tyre pressure monitoring system (TPMS)

TPMS monitors the pressure in all four tyres and alerts you
when pressure too low is detected.

Hill-start assist control (HAC)

This system detects steep slopes and initiates the brake automatically to prevent hazardous
rolling backward, especially when restarting the car after a stop in the middle of a slope.

Static cornering lights

Static cornering lights on Premium Nav and Premium SE Nav models enhance visibilitywhen cornering.
By projecting more light on the road ahead, this enables thedriver to spot obstacles and pedestrians more easily.
LDWS
FCWS
TPMS
HAC
SBL
SON
Electronic stability control (ESC) and Vehicle stability management (VSM) To ensure optimal braking performance, ESC automatically distributes optimum brake force to each wheel based on engine torque and driving circumstances. VSM enables the vehicle to maintain maximized stability and safety when driving in potential skidding situations.
Anti-lock brake system (ABS) ABS prevents skidding and wheel lock-up on slippery surfaces or during
sudden braking situations all the while allowing you to retain steering control.
6-airbag system Every New i10 offers peace of mind with six airbags that are deployed on impact to protect all occupants.